CONTACT
To make a reservation for Kythea Resort or ask for more information, please use the form below, completing as many fields as possible. Your NAME and E-MAIL are required, so we can contact you directly.
We take your privacy seriously and will only use your personal information to assist you and/or provide you the services you have requested from us. 
However, from time to time we would like to contact you with details of other offers / services / competitions we provide.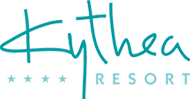 Ag.Pelagia Kythera 80100, GreeceTel:
 +30 27360 39150  / 170
Fax:
 +30 27360 39180
e-mail:
info@kythea.com

Member of the Greek Tourism Organisation
Registration Number: 0207 Κ 01 4Α 0003601
 
By ferry or aeroplane, spring, summer, autumn Kythera is there waiting for you. In order to organize your trip better you can get information about ferry and aeroplane routes at the following numbers:
Aegean Air
Tel. 801 11 20000 & +30 210 6261000
Sky Express ( Connection with Athens– Ionio islands)
Ellinair (For the summer 2017 direct flights will be made (Thessaloniki / Athens))
Tel: 801 100 82 82 & +30 2311 224 700
LANE LINES
Τel. Piraeus: +30 210 4197470
Tel Kythera: +30 27360 37055 & +30 6933 08 77 77
VATIKA BAY( Neapoli Agency)
Tel: +30 27340 24004 & +30 27340 29004
Kythera Agency
Tel: +30 27360 31848 & +30 27360 31390
Port Authorities
Kythera: 27360-33280 , 27360-31222
Piraeus: 210-4147800
Naples: 27340-22228